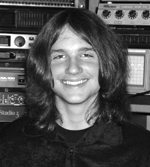 Downtain Quiz
(A Rap by Ibanez Downtain)

< back
Ibanez began his film career at the ripe old age of 10. He was asked to play a small part in a film called Captain Dashing Justice. The film was in a fast paced contest called the "Atlanta 48 hour Film Challenge". The film was written on a Friday night and shooting began at 8:00 am on Saturday. Filming had to be finished by Saturday night in order for the film team to have time to edit, complete music and sound design and have the tape ready for delivery by 7:30 that Sunday evening. Ibanez was thrilled to be included on the project. Since having a child on set can sometimes be challenging his part was very small. But after shooting his first scene the director, Ryan Prows, said he wanted to give Ibanez a larger role. Ibanez ended up with not only a larger role but was also cast as the narrator. Over the next four years Ibanez worked with Rorschach on such films as, Blind Justice, Social Rape, Uncertain Grim, LBY, Darkest Adversary, and most recently GunMetal Grey.

In 2004 Ibanez began studying Improv at The Whole World Theatre in Atlanta. He graduated and was invited to be part of Whole World's first teen performance group. The teens put on a totally unscripted show using only their imaginations and suggestions from the audience. They perform at many private functions as well as performing the first Sunday of every month at Whole World Theatre. Of course everyone close to Ibanez knew he would be a hit at Improv. Impressions and antics are everyday life for Ibanez.

In his spare time he rides the backs of unicorns and drinks magic sauce. And his incredible voice can now be heard as Ibanez sings you the Hits!!!!